Airtronics Super Vortex Zero ESC & RX-472 Combo (ROAR) AIR96338C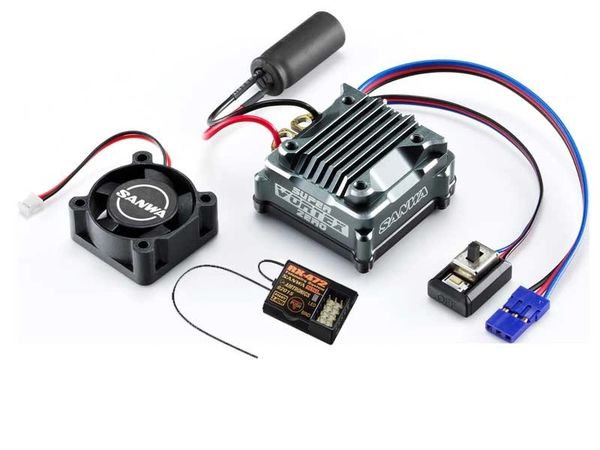 Airtronics Super Vortex Zero ESC & RX-472 Combo (ROAR) AIR96338C
Airtronics Super Vortex Zero ESC & RX-472 Combo
The Super Vortex ZERO ESC was designed for competition from the ground-up. With almost immeasurable resistance, huge current handling, and advance programming features, this competition ESC is the top ESC in its class. The Super Vortex ESC is compatible with all modern 2.4GHz radios and receivers.
The RX-472 features an extremely low latency time and high frame rate, which makes you feel more connected to your model than ever. Combined with Airtronics or Sanwa Super Response SRG digital servos, the RX-472 will give you reaction speeds like never experienced before!
What is Sanwa Synchronized Link?
When used with an Airtronics M12 or MT-4S, an RX-472 2.4GHz FH4T Super Response 4-channel receiver and the Sanwa Super Vortex ZERO ESC, the Sanwa Synchronized Link (SSL) system allows you to change many ESC programming values directly from the transmitter using the transmitter's CODE AUX function. This saves you the time and hassle of not needing to stop and change programming values manually through the ESC. You can make these changes remotely and in higher resolution increments for improved performance. In addition, telemetry data such as speed or RPM, ESC temperature, motor temperature (if supported), and battery voltage can be read directly from the Super Vortex ZERO ESC and displayed on the transmitter.
Super Vortex ESC Specifications and Features
• Brushless Sensored Design with Custom Sanwa ESC Programming
• Adjustable Voltage Cutoff
• Twelve Programming Modes
• Thermal Overload Protection Circuit
• Compatible with Normal, SHR, and SSR Channel Modes
• Supports Remote Programming via the Transmitter (SSL Supported ONLY)
• Input Power (Cells): 1S or 2S LiPo (4C to 6C Ni-MH)
• Motor Limit: 3.5T with 1S or 4.5T with 2S LiPo
• On Resistance: 0.00038 Ohms
• Rated Current: 740 Amps/Phase
• BEC: 6.0V/3.0A
• Dimensions: 1.25x1.39x.77" (32x35.5x19.7mm)
• Weight: 42g (Excluding Wiring and Power Capacitor)
RX-472 Features:
• Sanwa Synchronized Lik (SSL) Compatible
• Designed for Use with Artronics M12 and Sanwa Exzes-Z Transmitters and Sanwa Super Vortex Zero ESC*
• Extremely Low Latency Time and High Frame Rate
• Compatible with Airtronics Super Response Servos
• Compatible with 2S Li-Po Receiver Battery, So You Can Use High Voltage Servos Without a Voltage Regulator
• Small and Lightweight
• Finger Accessible Bind Button
• Supports Receiver Battery Fail Safe Monitoring
RX-472 Specifications:
• Model: RX-472 (92015)
• Frequency: 2.4GHz FH3/FH4T (Selectable Via Transmitter)
• Nominal Input Voltage: 3.7 to 7.4 Volts
• Dimensions: 1.18 x 0.91 x 0.55 Inches (30.0 x 23.3 x 14.0mm)
• Weight: 0.23 Ounces (6.6g)
• Battery Fail Safe Limit: 3.5 to 5.0 Volts (FH3) / 3.5 to 7.4 Volts (FH4T)
Included:
• Super Vortex Zero Competition ESC
• Airtronics RX-472 FH4 Receiver
• Sensor Cable
• Cooling Fan w/Mounting Screws
• 3 Feet 12AWG Flexible silicone Wire
• Heat-shrink Tubing
• User's Guide