HobbyWing XERUN-120A-V3.1 ESC RED (1/10, 1/12 CAR) 81020360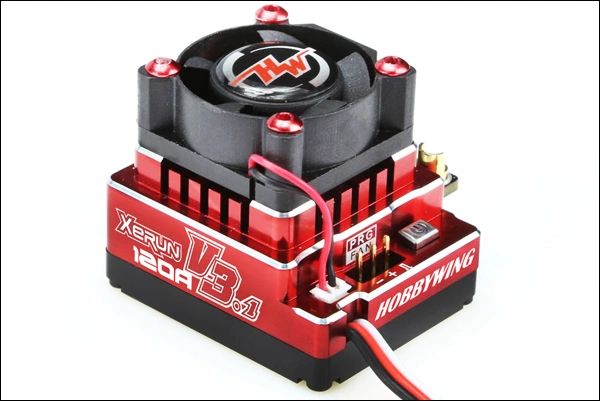 HobbyWing XERUN-120A-V3.1 ESC RED (1/10, 1/12 CAR) 81020360
Most advanced software functions
Built-in electronic switch saves chassis space
10 Pre-set profiles for Plug and Play
Innovative heat dissipation structure aluminum bottom case improves the heat dissipation
(The previous V3 speedo uses plastic bottom case)
Improved heat-sink with 1mm gap between the cooling fan allows more air flow
to reduce the temperature of speedo;
Industry's prooven dust-proof design.
Rubber rings are applied at the sensor port and the program port
Improved electronic switch has stronger current endurance to be more reliable
New firmware allows driver to adjust the throttle neutral range, and solves the "turbo lost in high temperature" problem in the previous version firmware.
Pre-soldered professional grade gauge wires
Specification
XERUN-120A-V3.1
Current
Continuous: 120A, Burst: 760A
Input * Note #1
4-9 cells NiMH/NiCd or 2-3S LiPo
Built-in BEC
6V@3A (linear mode)
Resistance
0.0003 Ohm
Motor Supported
Sensored and sensorless brushless motor
Suitable Motor
With 2 Lipo or 4-6 NiMH
1/10 on-road: >=3.5T, 1/10 off-road: >=5.5T

With 3 Lipo or 7-9 NiMH
1/10 on-road: >=5.5T, 1/10 off-road: >=8.5T
Suitable Car
1/10,1/12 all competitions
1/10,1/8 rock crawler
Cooling Fan
5V
Size
37.5mm(L) * 31mm(W) * 29.5mm(H), excludes wire connectors
37.5mm(L) * 37mm(W) * 29.5mm(H), includes wire connectors
Weight
93g
* Note #1
For 4-6 cells NiMH/NiCd or 2S LiPo, the standard cooling fan needn't be changed.
For 7-9 cells NiMH/NiCd or 3S LiPo, the standard cooling fan needs to be changed to 12V high voltage fan.

All in One. Up to ten profiles can be stored in the memory and imported or exported easily. Factory pre-set profiles include: Blinky mode, Modify Mode, Stock mode, Practice mode, Offroad mode, Drift mode, Crawler mode.
Built-in Electronic Switch, long life and high reliability, also saves space on the chassis.
Aluminum Upper and Bottom Cases with optional colors, giving better heat dissipation, and allowing higher current.
External Programming Port (EPP), easy to connect and also a power port for additional fan.
Advanced Dynamic Timing technology, providing more customization possibilities for highest level competitions.
Precise throttle and brake control, setting of drag brake and brake strength with more options, new punch and brake rate control functions, and throttle and brake curves through the PC client.
Integrated Data logger, recording the maximum temperature of ESC and motor as well as the maximum RPM, using LCD Programming box to check easily in the pits.
Multi Protection Functions, making your running safe with ESC and Motor overheat protection, low voltage cutoff and throttle signal loss protection.
Easily programmed with the Professional LCD Program Box and USB Link Software
ESC firmware can be updated through the USB adapter in the LCD Program Box.
Download the latest firmware: http://www.falconsekido.com/pages/download