Kyosho 30068B Ultima RB6 1/10 2WD Electric Buggy Kit KYO30068B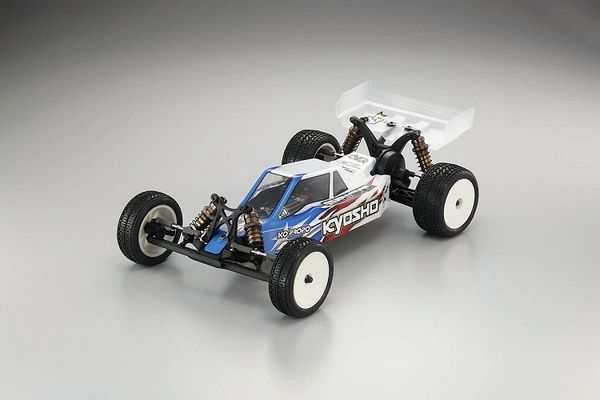 Kyosho 30068B Ultima RB6 1/10 2WD Electric Buggy Kit KYO30068B
ULTIMA undergoes a full model change with evolved performance to lead the RC racing world.
A new era in 2WD buggy racing has begun.

| | | | | |
| --- | --- | --- | --- | --- |
| On high grip surfaces, the midship motor layout delivers decisive turning and traction. | | Various battery types can be installed such as straight, separate or short types. Changing the front/rear position of the battery can control the center of gravity. | | Roll rigidity setting can be adjusted with the number of screws used. Side guards contribute additional vertical rigidity. |
| | | | | |
| --- | --- | --- | --- | --- |
| Duralumin chassis provides increased rigidity. Incorporates"7075-T6", the strongest material used in RC. Hard anodized surface increases durability and stepped edges reduce interference with the road. | | Gullwing type rear sus arms produce ideal damping performance. Aluminum drive hub locks wheels securely. | | New steering system allows setting of ideal ackermann ratio. By setting according to racecourse conditions, higher cornering speed can be achieved. |
| | | | | |
| --- | --- | --- | --- | --- |
| Special RB6 front-forward cabin body achieves excellent turning and straight speed performance. New wing delivers optimal balance setting for turning and acceleration. Produces great traction without diminishing maximum speed. | | Caster angle on new front hub carrier can be changed by replacing bushings. Hardened ball ends and adjustable chromoly rods increase crash resistance. One-piece steel drive hubs provide precision control and strength. | | Velvet coated big bore shocks deliver great traction and performance over gaps. Also, one-piece shock caps dramatically improve durability. Features X-GEAR springs that provide reliable spring effect and consistent road holding. |
New chassis design evolves the RB5.
Design allows both midship or rear mounting of the motor.
Features tungsten diff balls.
Uses one-piece steel front wheel shafts.
Battery mounting position can be transferred between front and rear when using separate or short type Li-Po batteries.
Transmission incorporates reinforced idler gear to increase strength and performance.
Clamp screw aluminum hex wheel hubs provide secure traction and precise rotation on the rear.
Newly designed large slipper clutch matches the output of high power motors.
Gun metallic anodized aluminum parts add a sharp style finish.
< Required for Operation >

2-channel, 1-servo, 1-ESC R/C System
Motor
Battery
Tires
Tire inners
Battery charger
Pinion gears
Paint for body
Batteries for transmitter
Tools
| | |
| --- | --- |
| Length | 395mm |
| Width | 249mm |
| Height | 140mm |
| Wheelbase | 285mm |
| Tread (F/R) | 221mm / 201mm |
| Tire(F/R) | sold separately |
| Gear Ratio | 2.6:1 (2nd) |
| Weight | 1,620g (approx.) |
| Motor | sold separately |