MIP Pucks™, 17.5 Drive System, Kyosho RB5/RB6 #13165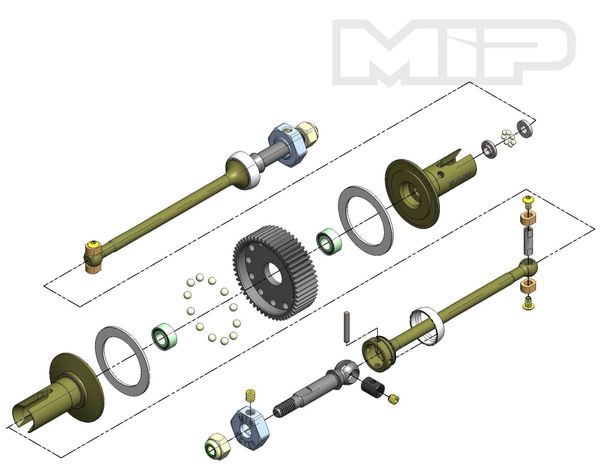 MIP Pucks™, 17.5 Drive System, Kyosho RB5/RB6 #13165
PRODUCT DESCRIPTION:
"MIP Pucks™" 'ARE' the future of 17.5 stock racing! MIP's all new Puck™ Drive system is an aluminum based drivetrain system which includes aluminum diff outdrives, aluminum C-CVD™ bones, and replaceable plastic orange wear Pucks™ that take the place of inferior steel pins. This combination greatly increases the longevity of the drivetrain and most importantly decreases the drivetrain's overall rotating mass by a whopping 50%! The decrease in weight directly results in quicker acceleration, deceleration, and lower motor temps! Get the advantage that every stock racer craves! GET, MIP's all new Hard Anodized 7075-T6 Aluminum Puck™ drive system!
TARGET CUSTOMERS:
17.5 Stock Racers
COMPETITIVE ADVANTAGES:
Less rotating mass
Quicker acceleration
Quicker deceleration
Lower motor temps
Less overall wear on drive components
FEATURES:
Complete MIP Differential
Complete C-CVD™ Axle Set
50% less rotating mass over stock steal components
Replaceable Pucks to keep your drivetrain fresh
Two sets of holes in the C-CVD™ bell
Hard Anodized 7075-T6 Aluminum
Race proven C-CVD™ Construct
MIP Laser Etched Logo
100% Quality made in the USA!
INCLUDES:
HW-SHSS 4-40 x 3/32 Cup Point (2), Ball Bearing 3/32" Chrome Steel Ball (12), HW-Pin 1/16 x .430 Solid Pin (2), HW-WASHER/ Diff Ring (2), HW-Nut M4 x .7mm Steel Locknut (2), HW- Bearing 1/16" Chrome Steel Ball (7), MIP Thrust Washer(2), HW-BHCS 1-72 x 1/8" (6), MIP 3/16" CVD™ Coupling (2), MIP Capture Rings (2), HW-SHSS, 4-40 x 1/8 Flat point(2), HW-BEARING/ 5/32in x 5/16in x 1/8in Ball Bearing (2), MIP CVD™ Puck Pin (2), MIP Outdrive Pucks™ (8), MIP 12MM Keyed Aluminum Hex Adapters Kyosho (2), MIP Thrust Retainer .236 Aluminum Bore (1), Diff Gear 52T 48P(1), Diff Lube & Grease cup (1), MIP Lube & Thread Gel Cup (1), Inst. Sheet (1), Confetti Sticker (2), MIP CVD™Keyed Rear Axle Kyosho Ultima RB5/RB6 (2), MIP Pucks™ MIP C-
CVD™ Aluminum Bone Kyosho Ultima RB5/RB6 (1), MIP Pucks™ Male Aluminum Outdrive Kyosho SC-R (1), MIP Pucks™ Female Aluminum Outdrive Kyosho SC-R (1)
REQUIRES:
.050 Allen Key
5/64 Allen Key
Kyosho Tensionner Spring
Kyosho Ball Diff. Screw Set
Kyosho Diff. Gear Set
COMPATIBILITY:
Kyosho Ultima RB5/RB6