SAVOX TY TESSMAN EDITION HIGH VOLTAGE BRUSHLESS DIGITAL SERVO 0.080/347.2 @7.4 SAVSB2274SG-TE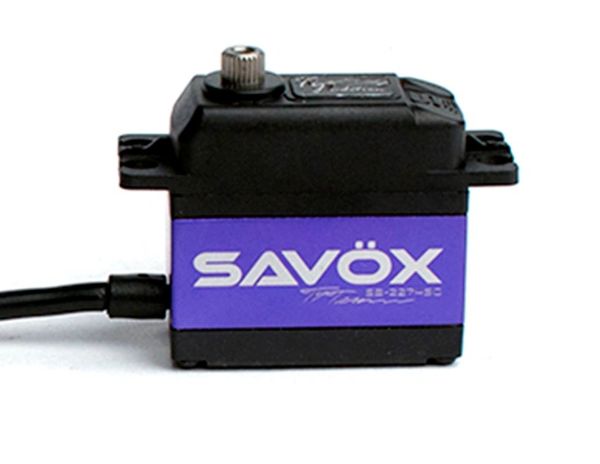 SAVOX TY TESSMAN EDITION HIGH VOLTAGE BRUSHLESS DIGITAL SERVO 0.080/347.2 @7.4 SAVSB2274SG-TE
TY TESSMAN EDITION HIGH VOLTAGE BRUSHLESS DIGITAL SERVO 0.080/347.2 @7.4
This Ty Tessman Signature series high speed brushless servo from SAVOX gives you what you need to perform like a champion on the track. For use on 1/8th and 1/10th scale trucks and buggies (electric and nitro). The SB-2274SG-TE is the servo that always performs like a champion. Pushing 347oz torque, this servo is a Ty Tessman favorite!
Features:
Unique purple design with laser etching and a shorter 200mm black shielded lead wire.
The full aluminum purple case design not only looks good with Ty Tessman signature markings but also allows for cooler and smoother operating temps
Brushless motor provides extremely high speed, incredible efficiency, and amazingly low power consumption.
Ideal for 1/8th or 1/10th scale trucks and buggies (electric & nitro) and giant scale aircraft. Also suitable for use in boats and helis.
Combines leading edge technology with super high 12 bit (4096) resolution and unique steel gears.
Super light-weight.
Specifications:
Speed: .080 @ 7.4V (.105 @ 6.0V)
Torque: 347.2 oz-in @ 7.4V (277.7 oz-in @ 6.0V)
Dimensions(mm): 40.3x20.2x38.5
Weight(g): 69.0
Gear: Unique Steel with aluminum 25 tooth spline
Double ball bearin